Hailey and her twin brother Ryan were born on June 6th, 2006 in Southern California. They were welcomed into their family by their mom Maria, their father Rick and their big sister Heather. Both infants started off their acting careers with roles on shows that most adult actors do not have the privilege of saying they have been on. Their resumes include roles on "Medium", "Standoff", and ABC's top hit show "Grey's Anatomy". Hailey and Ryan were also set to appear on "According to Jim". However, on October 4 2006, a tragic turn of events put their show business careers on hold. The day before Hailey's scheduled tape date for "According to Jim" her mother took her to the pediatrician. At the time, Hailey was a bit pale and had been running a low grade fever... nothing too out of the ordinary for an infant. But her parents wanted to be sure. At her doctor's appointment they were told that Hailey's spleen was enlarged. Her doctor decided to run a few tests and within the hour Hailey was rushed to the Children's Hospital Los Angeles where she was diagnosed with a form of Leukemia known as Acute Lymphocytic Leukemia (ALL) - also known as Mixed Lineage Leukemia(MLL) . The infant version of ALL (or MLL) is extremely rare - only 1 in 19 million babies get it! Since being diagnosed Hailey has undergone very aggressive chemotherapy and has had several blood transfusions to fight the cancer and help save her life. To learn more about MLL please click the link below.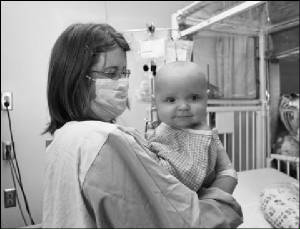 In the spring of 2007 Hailey underwent a stem cell transplant from an anonymous donor. Doctors have found that only 94% of the transplant has grafted - as opposed to the needed 100%. This means that 6% of Hailey's own, potentially cancerous, cells still live inside of her body. After spending another 5 months in the isolation unit in the hospital, Hailey was finally sent home to be with her family again. Though her isolation is far from over. Because Hailey's immune system is so fragile right now she rarely leaves the house and can not have contact with other children who could potentially be carrying germs. She has also been suffering from a common complication from the transplant- Graft Versus Host Disease - when new bone marrow or stem cells (the graft) reject or attack the patient's body (the host).

Although very young, Hailey has touched the lives and hearts of so many people. In the summer of 2007, several cast members from ABC's Daytime Drama came together to throw a benefit, "Luau to Fight Leukemia with the Kids of GH", in honor of Hailey and also held a Bone Marrow and Blood Drive in her honor. And just last month (November '07) John Stamos and his band performed a concert to benefit Hailey.
Please View This Special Music Video Tribute for Hailey